Everything you need to know about migrating your data from DB Classic to Dollarbird 3
First, please make sure you have the latest version of DB Classic on your device. You can find the iOS version here, and the Android version here.
After updating the app to the latest version, and opening it, the migration flow will start automatically. You can also trigger the migration flow from Settings by tapping on "Migrate to Dollarbird 3".
Tap on the blue button, and you'll land on the sign-up screen. This is where you can create your new Dollarbird 3 account. If you've already created one, skip the sign-up and log in.
Upon successfully signing up or logging in, the migration process will start: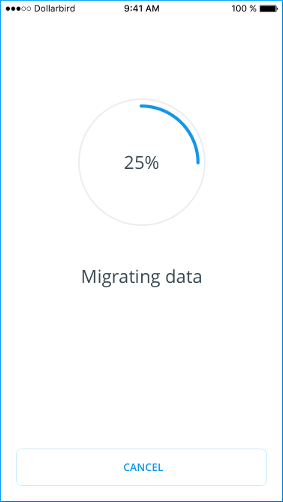 Wait until the migration is complete and you reach 100%. Then, all you need to do is download Dollarbird 3, if you haven't done so yet, and log in. Your data should be there waiting for you, safe and sound.
Troubleshooting
Got an error message? Make sure you have a working internet connection and try again.
Migration stuck at 99%? Don't kill the app, wait for a while. Open Dollarbird 3 and log in, your data might be there, even if you never made it to 100%.
Are your repeating transactions off by a day or two? Please delete them, and add them again to the correct dates.
Is all your data off by a day or two? Delete your Team and restart the migration process in DB Classic.
None of these work? Drop us a line at feedback@dollarbird.co.